This year, time spent with digital video will officially surpass time spent with TV among US adults. Video advertising is also moving toward digital as advertisers set their sights on connected TV (CTV) and social video, and even take advantage of retail media networks' video opportunity.
Whether you're pitching a video ad campaign or reevaluating a tight ad budget, here are five charts that will help with the how, what, where, when, and why of video advertising.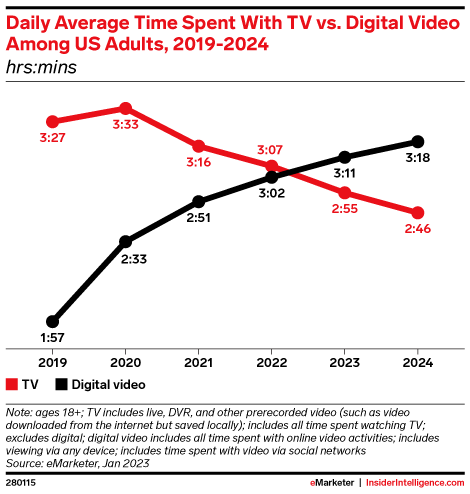 TV will officially be less viewed than digital video, according to our forecast, as users spend more time streaming appointment TV, scrolling TikTok, and watching news and sports through digital options like YouTube TV and Hulu + Live TV.
Of the 3 hours, 11 minutes spent each day with digital video, the biggest share will take place on connected devices like smart TVs and game consoles, rather than on desktops, laptops, or mobile devices.
When it comes to advertising with social videos, target the attention sweet spot. Viewers are most likely to watch videos that are a few minutes long, rather than short or full-episode-length ones, according to Magnite.
But social media users, especially young ones, are extremely savvy when it comes to spotting paid content. Users will watch content that's a few minutes long, but they won't necessarily watch an ad for the same amount of time. Consider focusing on native ads within curated content.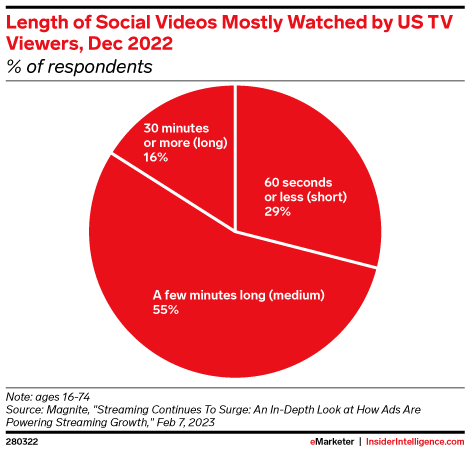 We project US native video ad spending will increase to $38.30 billion this year. While its share of total video ad spend will decrease slightly, we project it will remain above 40%.

MORE VIA INSIDER INTELLIGENCE