Saturday, 02 February 2013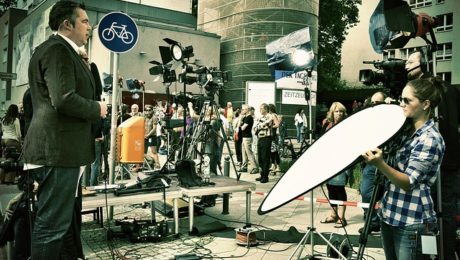 My career as a journalist spanned nearly a decade. When I left to launch a web-video startup, BizBOXTV, I quickly discovered storytelling was part of my DNA, evident in the process and style of my new media company and how it approached its first productions.
It wasn't about story-boarding or scripting, it was about asking questions, getting answers, and weaving content together to produce an interesting and useful story. The benefits of combining the approaches of traditional journalism and brand storytelling seemed obvious.
Businesses are using social media, web video, and digital publishing to speak directly to consumers. It's a way for brands, big and small, to use the approach of professional journalists to create, curate and share expert content in the form of blogs, articles and video. Brand journalism is obviously not as impartial as journalism, but it's a way for a brand to engage an audience with relevant and interesting material. The content must be factual, and keep "relevance to the viewer" top of mind.
Marketing strategist David Meerman Scott, author of The New Rules of Marketing & PR, says "brand journalism is winning over direct marketing and PR attention-getting techniques.
"I'm convinced that those with the traditional skills of marketing, public relations, and copywriting are not the right people to create brand journalism content. Instead you need the skills of a journalist."
Brand journalism is about facts and balance. It's about telling an engaging story, and the goal is to educate rather than blatantly market. This way, readers or viewers are informed, and they become engaged with your business and it's mission.
Home Depot is one major brand that has been creating expert content and useful do-it-yourself advice for a while, and it's reaping the benefits. The content, whether it's in the form of blog posts or web video, generally doesn't try to sell anything directly. Instead, it keeps the focus on education.
Cisco is another example. On its blog, most of the articles and videos don't mention the company at all. Its plan is to create a conversation and to position itself as a leader in the industry it represents. The company's digital lead, Karen Snell, has said: "The goal was to generate engaging content to spark a conversation … If we can make people understand what Cisco is doing, then we've been successful."
Boeing is often mentioned as a successful adopter of brand journalism. "When brand journalists think of what's interesting to their audiences and create engaging content, they generate stories that can really take off," writes communications director Todd Blecher. "This story is about testing the brakes on our new 747. It involves speeding an airplane down a runway, hitting the brakes just before takeoff. It ends with the brakes on fire, which is eye catching, to say the least.
"We've had millions of views, and our key messages about safety and durability reached more people through our website, YouTube channel, and Facebook than we would've ever reached with a traditional news release."
There are huge benefits to providing content that educates and informs, and it's easy to measure the return on investment. How many hits did it get? Was it shared? Did it spark conversation? As the public and businesses become increasingly "social," brand journalism can make communicating with consumers more interesting, while setting a company apart from outdated "push" marketing approaches.
Businesses that do it properly can create a huge competitive advantage, while increasing their credibility and relevancy in the marketplace.
Lisa Ostrikoff is a TV journalist/anchor-turned-creator of BizBOXTV, a web video and social media marketing agency. Find her on Twitter and Facebook.
via Farewell 'push' marketing, hello brand journalism – The Globe and Mail.
Content Marketing: Why Online Video Is Vital

If you feel online video is just another over hyped, passing fad, think again. In fact, online video is gaining strength as a source for content marketing, as highlighted by the recent B2B Demand Generation Benchmark Survey for 2012.

The take-away? Most respondents prefer video over white papers, case studies, even live demos with reps. And you should factor that into your 2013 content marketing strategy.

By the way, this survey was compiled by marketing automation giant Eloqua, CMO.com (Adobe's content site providing digital marketing news and insight for senior marketing executives around the globe) and Software Advice, an online consultancy which publishes product profiles, comparisons and best practices guides to help buyers find the right software for their business. Read the blog post with all the details and an insightful video here.

So, Why Video?

The web trending towards video is made obvious by much more than the example above. After all, YouTube is the number two search engine in the world. This may lead you to the conclusion that we simply don't like to read anymore. But the video preference situation we're witnessing is much more detailed than that. So the question you may be asking yourself (or your boss may be asking you) is: Why video?

For this, let's reference an expert. A real Ph.D. level expert, Susan Weinschenk, Ph.D. — also known as The "Brain Lady." As a leading speaker, author and consultant to brands like Amazon, Disney, Walmart and South By Southwest, she brings a deep understanding of the psychology of customers and why they do what they do.

She has uncovered four core, very human reasons we are drawn to video as a form of content marketing:

#1: The Fusiform Facial area makes us pay attention to faces – this is an actual brain function that hard-wires us to use the human face as a gathering point for information and believability.

#2: Voice conveys rich information – yes, the simple sound of a human voice speaking to us has an amazing way of converting information into meaningful content.

#3: Emotions are contagious – here's a subtle but powerful aspect that we may take for granted. The body language of emotions is an appealing and we naturally love to share.

#4: Movement grabs attention – another trait that runs deep in our collective anthropological DNA is the power of peripheral motion. Since the stone age, we've survived by noticing things in motion – looks like we still do!
via Why Online Video Is Vital For Your 2013 Content Marketing Objectives – Forbes.