Facebook Video Ad Spends Rising
The third quarter of 2015 marked the first time spending on Facebook video ad spending topped spending on photo ads, according to SocialCode, a Facebook Marketing Partner.
SocialCode attributed the surge in Facebook video advertising by its clients to the social network's introduction of target rating point buying for video ads, which enables advertisers to buy Facebook ads much in the same way they purchase spots on television.
The company found that Facebook video ad spending accounted for 29% of its clients' Facebook ad spending in the third quarter, up from 23% in the second quarter of 2015 and from 14 percent in the third quarter of 2014.SocialCode added that advertisers spent 206% more on Facebook video ads during the first three quarters of 2015 than during the same period in 2014.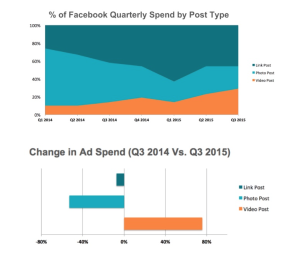 via Adweek