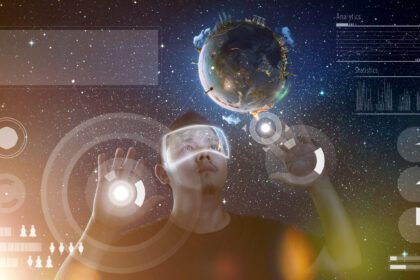 Metaverse & Metaverse Ads – Major 2022 Online Ad Trend
If there's been a buzzword for 2021, it's definitely metaverse. Even though the entire concept isn't that new, when Mark Zuckerberg mentioned it in the context of Facebook's (now: Meta's) future, the market lit up instantly.

In this respect, in addition to numerous successful brands' collaborations, the digital property space in metaverse has been recently booming, too, with valuations rising to record-breaking heights.

As for the prospects for 2022, metaverse in a whole, and metaverse advertising in particular, will definitely undergo its further evolution, yet its dynamics will significantly depend on how fast the implementation of infrastructure will be going forward.
via B2C
The metaverse is already upon us, and for brands, retailers and consumers alike, there is an immense opportunity not to be missed.
20 years ago, it was unlikely advertisers would have believed you if you told them they would be spending such a significant amount of their budget on platforms like Facebook and Instagram.

Yet in the last decade, online platforms have become the lifeblood of countless companies, allowing them to reach much wider and targeted audiences than ever before.

"Projected global social media advertising revenue of $153.7bn in 2021 is expected to grow to $229.6bn in 2025."

It might seem like a pie in the sky notion when we hear people saying how the metaverse will change the way companies and consumers interact.

"However, in the past few months, we have already reached a point where the question is not whether the dominance of the metaverse is going to happen, it is a question of when that is going to happen."
via Yahoo Finance