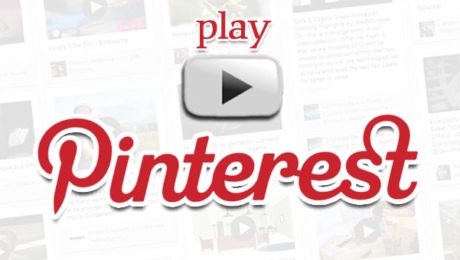 Pinterest Inc. is starting to offer video advertising on its image-based social network, seeking to catch up in a fast-growing market.
While Facebook and Twitter have honed their video-advertising offerings for years, Pinterest pursued other priorities, like building its business model, improving search and making it possible to buy some items directly from the site. Now the San Francisco-based startup realizes that it's behind on video.
"It's something we've under-invested in in the past, and we're changing that," said Jon Kaplan, who was hired from Google earlier this year to be Pinterest's head of sales. "This is all part of a broader push from the company to make video a bigger part of the consumer and advertiser experience."
Pinterest's site and app let people browse and save inspirational images of things they want to buy, make or do in the future. The company tracks a person's activity to create personalized feeds of photos they think will appeal to that user. Within those feeds, more video has started to pop up — with YouTube now the top source of pinned items and video use up 60 per cent from a year ago, Pinterest said. The company is also working on a tool to let people post and view original video on Pinterest.
The new video ads will be interspersed with those personalized feeds, catering to the interests of whoever is browsing. If clicked, the ads will start to play with sound. The advertiser can choose to show as many as six related "pins" of items to pair with the ad. For example, if the ad shows video of a fashion model, the pins might be of items the user can buy to get the look. "Our video ads are going to be tailored to your interests," Kaplan said. "We've added in additional features that allow the user to take action."
U.S. digital video-ad spending will reach US$9.9 billion this year, and is set to almost triple by 2020, according to research firm EMarketer. Pinterest, which has more than 100 million users, was last valued at US$11 billion in a funding round in March 2015.
via Financial Post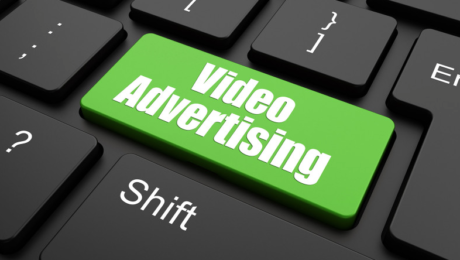 Ever since Facebook began selling autoplay video advertising in 2014, the other major social properties—Twitter, Instagram and Snapchat—have become equally aggressive at courting video marketers. As a result, social video spending is growing quickly, as explored in a new eMarketer report, "Video Ads in Social Media: With a Full Slate of Ad Products, the Social Properties Take Aim at TV."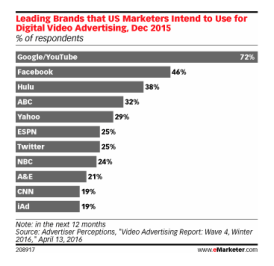 In a February 2016 survey from RBC Capital Markets and Advertising Age, 12% of US marketers had already purchased autoplay video ads on Facebook and an additional 57% were likely to in the next six months. Only 7% said they definitely would not buy Facebook autoplay ads.
In a study of its clients' advertising activity on Facebook in North America, ad automation software company Nanigans found that spending on mobile video ads increased 26% between Q4 2015 and Q1 2016. For gaming advertisers in particular, 35% of mobile ad spend in Q1 2016 went to video. Video's share of gaming companies' mobile ad spend grew 122% between Q1 2015 and Q1 2016.
via eMarketer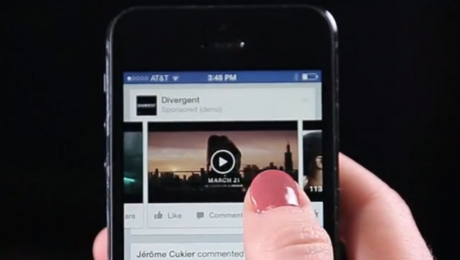 70.8% of marketers are planning on running video ads on social media over the next 12 months, according to research by cloud-based video creation service Animoto, as reported by eMarketer.
Of the marketers planning to run video ads on social, the majority plan to do so on Facebook (65.8%), followed by YouTube (42.3%), Instagram (27.4%), Twitter (21.6%) and LinkedIn (10.3%).
The study highlights the emergence of video for Facebook. Previous research from December 2015 by market research firm Advertiser Perceptions showed marketers favoring YouTube for video ads (72%) compared to
Facebook (46%).
Video is becoming an increasingly important medium on mobile and social.
Social media platforms are going all in on video. Facebook updated its news feed algorithm to emphasize video, while both Facebook and Twitter have been vigorously promoting new live video streaming features on their platforms.
Video is also one of the most popular content types for mobile users, while consumers are watching digital ads on mobile at a fast-growing clip. Facebook received a whopping 84% of its ad revenue from mobile during the last quarter, and Google announced earlier this year that it is now serving more search queries on mobile than on desktop.
Facebook VP Nicola Mendelsohn predicted that the social media platform "will be definitely mobile" and "probably all video" in five years.
Marketers need to understand where their target audiences can be found, but if they're on social and/or mobile, it's a good bet that video messaging is an effective way to reach them.
via MarketingDive