BizBOXTV- A Canadian Corporate Video Production Company — Serving: Calgary, Edmonton, Toronto + more!
Broadcast Your Brand™  Brand Journalism™
Online Video Production + Video Advertising + Social Media Marketing
BizBOXTV's corporate video production clients & partners include major media networks, large corporations as well as small-medium businesses in all cities & industries across Canada and North America.
The BizBOXTV difference? We're not a traditional corporate video production company with traditional approaches. We were founded in 2009, as this new digital & social world started making itself known, so our focus and expertise has been honed right here. Our background comes from working in news… most of our core team are Journalists, seasoned professionals who know the best way to tell stories in an engaging and entertaining way so a target audience will listen.
From single profile videos and team bios to sales videos and branded content creation, BizBOXTV has years of experience working with businesses just like yours, looking for a unique and powerful way to tell their stories, increase brand awareness and of course, sales. You are also looking for an incredible return on investment in this changing media landscape. This is why BizBOXTV was created. Professional corporate video production does all that, and more.
As the entire media and advertising landscape experiences a massive shift, BizBOXTV is thrilled to be in a position to work with forward thinking companies driven to get and stay ahead of the curve via corporate video production. We have worked with hundreds of amazing corporate video production clients in Calgary, Edmonton, Toronto & in cities across Canada and North America over the past four years. BizBOXTV is looking forward to growing and evolving with this ever-changing communications landscape to be able to offer our clients the most innovative approaches to getting what they want, as well as getting the most value out of their marketing dollars.
BizBOXTV – Corporate Video Production – Canada – Calgary, Edmonton, Toronto
BizBOXTV: An Evolution in Media.
Do you have a Canadian corporate video production project you'd like to explore working with us on? Contact us today if you're ready to step it up and enter the exciting and results-driven world of BizBOXTV: online video production for business.
Press 'play' on web video for your business!
Calgary, Alberta CA HQ 403.239.1382
National/International 1.877.839.1382
bizbox@bizboxtv.com
Getting millions of online video views from people who aren't interested in your product and don't intend to purchase it doesn't help you move the marketing effectiveness needle. Regardless of whether your online video goes viral, online video can be a strong marketing tool to add to your marketing mix.
Your marketing goals will probably fall into one of three major categories:

Improve branding, since viewers are used to seeing video presentations. While television advertising requires sizeable budgets, creative marketers can leverage current technologies (online video) to extend their brand cost effectively.
Increase sales by enticing consumers to purchase. This includes adding online video to your website to show customers how to use products or acting like a commercial to drive sales.
Expand customer engagement by letting viewers add comments and use your footage to create something of their own.

While having a viral online video production may be every marketer's dream, a video's impact isn't just measured in views. It's more important to attract and convert interested prospects to expand your brand and drive sales.
via ClickZ.
_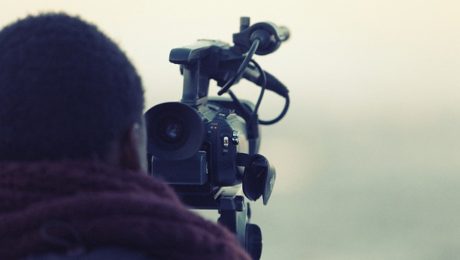 Increasing spending to reach viewers
Marketers will take a closer look at online video in 2009, according to a survey conducted in December 2008 by PermissionTV.

More than two-thirds of respondent businesses said they would focus their budgets on web video this year.

Read the entire article: http://www.emarketer.com/Article.aspx?id=1006848
It's something the founding team at BizBOXTV has had a 'hunch' about for the past few years or so… and is why we chose to launch our web & online video production company in Calgary this Spring.
Now serving the video production & video marketing needs of both small businesses and large brands  in Calgary, Edmonton, Toronto and Vancouver, BizBOXTV helps companies leverage the power of online video as part of their marketing and advertising campaigns.
Are you looking to explore online video marketing for your business or organization?
Contact BizBOXTV today to find out how professional web video can help Broadcast Your Brand™ to the masses.