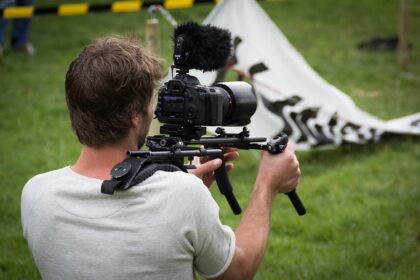 When the first dose of warm weather hits after a long, dark winter, our business – like many others – experiences a spike in clients and upcoming projects.
Spring fever? Better moods? Renewed inspiration? Whatever it is, it's consistent year over year, and we welcome it with open arms.
As the spring thaw heats consumer spending, now is also the time to capture and showcase what you have to offer via video. According to a study by Animoto study, 73 per cent of consumers are more likely to purchase after watching a business video (explaining a product or service), and 96 percent say they find video helpful when making purchase decisions. So it's time ride the wave of consumer spring fever, especially if you have a seasonal business.
In our experience, some businesses delay moving forward with online video in the winter months, especially if the outdoor aesthetics or operations of their business is better captured in spring or summer months. If it's something you've been thinking of, now is the perfect time to make your move and capture what you can when you can, because as we Canadians know all too well, winter will be back before we know it!
Does your business offer a service that's best captured during the warmer months? Landscaping, roofing, decks, stucco/siding, paving, utilities, painting, window installation/cleaning, automotive/marine services, for example, should look capture their offerings in their best light this season.
Do you sell a product that is used when the weather is warm and the sun is shining? This could include outdoor sporting goods, camping gear, motorbikes and scooters, boats, kids or pet toys. Take advantage of these warmer months to showcase your product in it's intended element for lasting ROI.
Is it time to capture shoppers at your location this season? If you want to showcase what your storefront looks like from the outside or highlight a cluster of retail offerings or popular shopping spots, this is your chance to capture it on video when it's beautiful and busy.
Once the warmer temperatures hit, people flock outside in search of things to do. Profile what your venue or location offers and showcase it while it's bustling.
The number of outdoor events spike in the warmer months. Whether you host for-profit or non-profit events, plan ahead for next year by capturing video that can be used again and again for promotional purposes.
Unless a property or development has a winter purpose, most land, larger developments and new communities and homes are best captured during the warmer months when the grass is green, trees and flowers are in bloom. This is the season when most in the real estate, building and development industries should hit roll and record.
Warmer months are perfect for showcasing beautiful clean vehicles on clean roads. This is your opportunity to have your automotive lineup captured, highlighting the seasonal experience your brand offers. It's also a great time to capture and share seasonal automotive services via video.
Here are some quick tips to keep in mind for warm weather shoots:
Dress for the weather, but keep in mind what's most appropriate to wear when representing your brand;
Wearing sunscreen and bringing extra water is always a good idea, depending on the length of the shoot;
If on-camera it may be a good idea to pack some face powder to prevent shine;
Make sure everything is set up the way you want it to prior to the video crew arriving.
The great thing about capturing video that is seasonal, is that it can likely be re-purposed and reused for more than one year, increasing it's return on investment levels.
Lisa Ostrikoff is a TV journalist and anchor-turned-creator of BizBOXTV, a Canadian online video production, advertising and social media marketing agency.
via Seasonal businesses: it's time to warm up to online video – The Globe and Mail.